Happy New Year to all my FanGrrlish readers!
There is an astounding array of new and returning TV shows coming around the bend this month. What will you be watching? Here's my list below. If you are trying to track the dizzying list of premiere and return dates, I also recommend you check out Ausiello's
list
, and TV Addict's very thorough debut
calendar
.
December 28
- Day Of The Triffids (UK only)
BBC just aired this
new
version
of the horror classic Day Of The Triffids, adapted once again as TV miniseries. I'm curious, mainly because the 1962 British
film version
was always one of my best cheesy pleasures of childhood. We'll see if BBC America or SyFy ever get this one.
December 30
- Patti Smith: Dream Of Life
I missed this
PBS documentary
on "the highly-influential Godmother of punk," but I'm sure I will have more chances to see it this winter.
January 6
-
Friday Night Lights
returns. The show has been subtle gold so far this season, with a command performance by Zach Gilford as Matt Saracen, and enough Riggins Time to keep any woman real happy. Hope you're watching...or will be when the show starts later this year on NBC.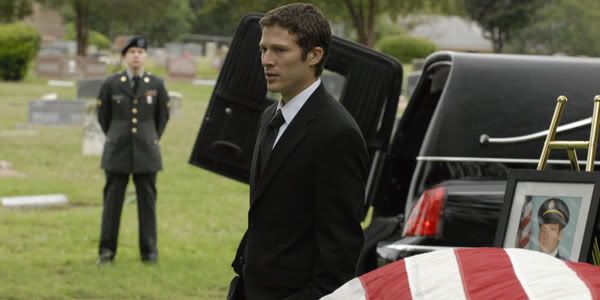 -
Cougar Town
returns. This show has kept me in big stitches as my favorite TV comedy right now (sorry
30 Rock
and
Modern Family
!)...upcoming episodes are going to feature
Lisa Kudrow
as a new hilarious nemesis for Courtney Cox's character.
-
The Human Spark
I'm quite curious about this
PBS 3-part series
hosted by Alan Alda, which asks the question: What is the nature of human uniqueness? Part 1 starts January 6, continuing once a week for 2 more weeks.
January 8
-
Dollhouse
continues with its final 3 episodes starting tonight. Le Sigh. I am quite sure that this will end up a permanent Joss-ish DVD hit once all is said and done -- but the show and its squicky, freaky subject matter, dystopian tone (...and horrendous on-air marketing) put it squarely in the Cult Department. And I say: SO FRAKKIN WHAT. Meanwhile, for us Whedon junkies: Joss has announced that by the time the show ends we are going to have news of his next project(s). So...there.
January 10
-
Big Love
returns for a new season, cannot wait. Last year was the best yet. I'm sure season 3 is on HBO's VOD now and if you need a quick video refresher of all seasons to date -- check this out:
-
Being Human
returns for season 2 on BBC 3, and we Americans can look forward to it on SyFy later this year.
-
Return To Cranford
For you fans of the PBS/BBC miniseries
Cranford
(and the Gaskell novels it was based on), we are now getting a second,
two-part mini
which begins airing today and finishes on January 17. The best description I've read is from PBS itself: "an ode to small-town life that combines the love interests of Jane Austen with the social consciousness of Charles Dickens in enchanting stories of merriment, romance and life's absurdities and tragedies."
-
Battlestar Galactica: The Plan
Finally, Syfy airs their
Battlestar Galactica
coda tonight. I realize all we BSG truefans have all already seen it like 3 times and may or may not own a copy. I know a lot of you were disappointed with this final piece of BSG lore... but I really did enjoy it. Like the longest, most complex DVD extra ever made, it does a nice job of weaving previous story threads together with new material. And, since I love evil, conniving Cavil, and all the various and sundry Six models...well it was a field day for me really. Those of you who enjoyed all the cylon story threads the most will get a real kick out of this telefilm. So say we all.
January 14
-
Grey's Anatomy, Private Practice
The two best smexy soap operas on TV return with a crossover show tonight. By the by, showrunner Shonda Rhimes has been
twittering
up a storm this season if you're into that sort of thing.
-
Archer
Also starting today on FX is this new animated comedy series about spies, which has a cool voice cast (Jessica Walter, Aisha Tyler, Chris Parnell). I'm intrigued... especially from EW's
description
: "Crass, crammed with verbal and visual gags, seems to have absorbed every spy genre from the Bond canon to
The Man from U.N.C. L.E.
to
Get Smart
. And smart it is."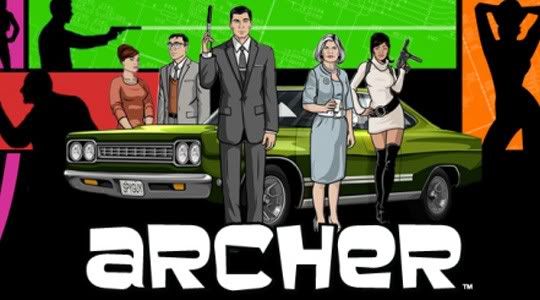 January 17
-
24
The venerable action TV franchise starts its new season tonight -- now with more Katee Sackhoff! You've got a total of 4 hours to plow through this week - this 2-hour premiere and another 2 hours tomorrow night. Go Cherry Jones, go. I'm mainly watching for Katee at this point.
Speaking of Katee...she has a rocking
official web site
that is updated often and highly recommended for her fans. Also, a
Facebook page
that will remind you when the site gets updated.
-
The Golden Globes
will be on...if you care about such things.
-
Being Erica
I keep hearing fun things about this Canadian series, which is about to start its 2nd season. We Americans can check out
a season 1 marathon
today on SoapNet...and the new season premieres on that channel January 20th.
January 21
-
The Vampire Diaries
My guiltiest, YA-est, most supe-tastic pleasure of the Fall TV season is back at last with the second half of season 1. (
Hey, at least these teen vampires get to take their clothes off and do the nasty with the townsfolk!
) We also have some fun casting news: L WORD/indie film babe Mia Kirshner is
now
a part of the show...and as Hitfix points out,
Gina Torres
is going to show up first thing as we jump into the next episode.
If you're into this sort of stuff, this show also has some great official twitters going on: showrunners
Kevin Williamson
and
Julie Plec
, and castmembers
Nina Dobrev
,
Ian Somerhalder
, and
Katherina Graham
.
January 22

As was
pointed out
last year when January air dates were set, this is a fun night for us Joss Whedon fans - the two genre shows starting today have big Jossir connections. And, natch, quality writing and producing.
-
Caprica
What is left to say about this, the Battlestar Galactica prequel series, that has not already been said elsewhere? We BSG fans who enjoyed the pilot film are all waiting with baited breath to see how we feel about this show, whether it lives one season or five. I definitely liked the pilot myself, and will certainly tune in with hope and faith. In the writing and the casting. In the knowledge that most of the other departments (cinematography, production design, costumes, effects) are all being handled by much of the same team as BSG. So say we all.
A few links to enjoy while you fellow nuggets wait out the last few weeks before it starts:
a run down
of what the network has to say about the show; two interviews with former Joss collaborator and producer/writer Jane Espenson (
old one
/
new one
); some featurette
videos
; and the entire pilot film is currently
streaming
on Hulu & Syfy if you need a refresher.
-
Spartacus: Blood And Sand
I was lucky enough to get my hands on the first two episodes of
this new Starz series
, and it is pretty hot stuff. Very brutal and
sexy
, with all the high drama, court intrigues, and ultraviolence you want in your Roman Epics. Blood splatters in sheets all over the place here -- but the real surprise is the intensely stylish visuals of the show. As you have probably been hearing since last spring: if you liked the artfulness of the film
300
, you will love
Spartacus
' style. Computer special effects have gotten so efficient, affordable and seamless, that now TV makers can get in on the fun as well.
Alright now, GAME OF THRONES -- consider the gauntlet thrown...
This show also has the delightful perverse scheming of Gladiator owner/trainers Batiatus (John Hannah) and Lucretia (Lucy Lawless), who add as much to this show as Atia of The Julii (Polly Walker) and Mark Antony (James Purefoy) did to ROME. A few more enticing facts: former Joss collaborator Steve DeKnight is a co-producer/showrunner, with Sam Raimi's company (
Xena, Hercules, Spiderman
) producing. Starz has already announced a
renewal
for a 2nd season. Several Dollhouse writers are going to be working on scripts for that 2nd season. Yeah. I'm in too.
January 25
-
Secret Diary of A Call Girl
I loved this show's hilarious/outrageous 1st season and was enthralled/moved by the intense 2nd...so I cannot wait to see where we are taken in this 3rd
series
- given that Belle (the wondrous Billie Piper) ended up outing herself on national television last time we saw her...Apparently with Ben's full support.
-
Damages
Another hip show rolling into its 3rd season tonight -- with some enticing new castmembers
including
Martin Short, Campbell Scott and...Lily Tomlin! Can this show keep the tension and BitchDiva factor on high for another year? We shall see...
February 2
-
Lost
At long last: the final season. A big frakkin' deal for so many of us. By the by, if you need to do that rewatch prep: seasons 1 through 5 are currently streaming online at Netflix and Hulu. You're welcome. PS - anyone have any ideas, suspicions, etc, about
this tweet
from Damon Lindelof?
February 19
- HBO's new animated series
The Ricky Gervais Show
debuts today. I didn't fall for his previous series Extras, but the guy is funny, and I'll keep trying...
-----------
There is plenty more coming in March and April 2010... Just a taste, in my own personal order of interest rather than by premiere dates:
Glee, Nurse Jackie, United States of Tara, The Tudors, Treme, Breaking Bad, V, Parenthood, Justified, FlashFoward
. Booyah.