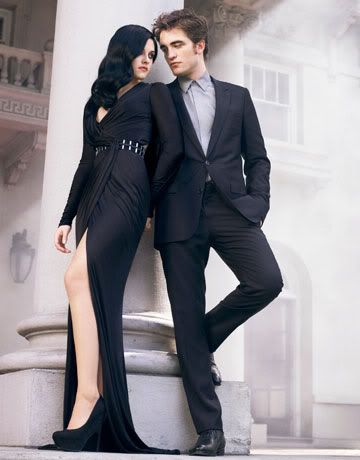 So now there's to be another attempt at making a
girls n' vampires n' other assorted creatures
saga - this time
a film script
adapted from THE MORTAL INSTRUMENTS book series. More fuel on the fangbanger fires, baby. Bring it. (Any of you ever read these books?)
A few TGIF-ish giggly fangbanger links for y'all today...
Via HBO, this hilarious TRUE BLOOD "face in a hole"
image library
. For when the hiatus starts to burn you!
Thanks to the new Harpers Bazaar
photo shoot/feature piece
on Robert Pattinson and Kristen Stewart, we now have a perfect image of what Vampire Bella could look like (above). The entire photo shoot seems like it could have been shot with the actors in their BREAKING DAWN movie costumes.
And for you Twitter-er-ers...erm... I have
a new Twitter List
collecting tons of TRUE BLOOD, TWILIGHT / NEW MOON, and VAMPIRE DIARIES tweets together in one place. And here's a bunch of VAMPIRE DIARIES
cast/crew Twitter accounts
. TGIVF!