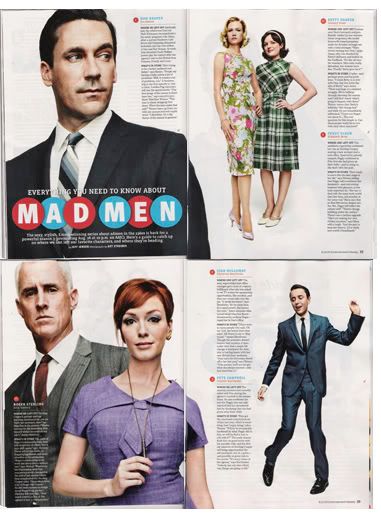 There's a great layout in this week's Entertainment Weekly of various MAD MEN characters shot in mid-1960s magazine editorial style. Really perfect! Here are the pages much larger so you can read the (mildly spoilery) text:
One
/
Two
/
Three
/
Four
.
Only one more week till the show starts! Here are some fun links:
For reasons I do not understand, there have been ZERO new promo ads for season three aired on AMC (ie, ads that show us footage from the new season)...the only new videos on the website so far are interviews such as
this behind the scenes video
. But Matt Weiner says some intriguing things, and you get glimpses of most of the main characters in S3 wear. As usual, Christina Hendricks (Joan) and Elizabeth Moss (Peggy) are looking especially fabulous. Wonder what that "chaotic" plotline could be...perhaps the dawning of the new era (E.R.A.) that the late 1960s will bring into society?
The greatest MAD MEN fansite on the planet,
The Basket of Kisses
, is naturally kicking it into high gear and I found the following info over there of special interest:
The AMC press release for the season premiere apparently reminds that MAD MEN will air for the first time each Sunday with "limited commercial interruptions." Based on BoK's past experiences with past seasons this means there will be a scene that will not be aired again, not even if they rebroadcast it immediately at 11pm, so as BoK says: "bend heaven and earth to be in front of your television at 10." Or, hey, use your DVR.
On the recently-released Season 2 DVD box, there was apparently a technical mixup on a few of the on-screen menus, making it difficult to find the commentary tracks for some of the episodes.
BoK explains how to find them.
I will most likely be hanging out at BoK and at
this MAD MEN livejournal fan community
after the shows end each week to talk...please come on down if you feel like it.
Maureen Ryan
's and
Alan Sepinwall
's blogs are also great places to find smart engaging discussion (and probably some more great interviews) after each episode airs. Hope to see you around, my fellow Maddicts...