Hello my TV-watching buds on the interwebs. Sorry I've been so quiet lately…there's been a lot going on this month. My company took on a huge new project that is barreling down the runway to liftoff later this winter, and personal reading and writing time has been siphoned away almost completely. Meanwhile I found an apartment in Park Slope, Brooklyn so packing, planning, moving and shopping continues apace for that change.
Oh and there was an election, perhaps you heard. ;)
I continue to
twitter
daily, since 140 characters is often all I can get out in my limited bursts of leisure time. Hope you're reading and following. Meanwhile, a few brief comments here about TV.
FRIDAY NIGHT LIGHTS is just amazing and wonderful. I'm sad that so many people cannot watch the show in its unedited version this fall. Commerical-free to boot! A miracle. But believe me when I say that you MUST MAKE SURE to watch the show on NBC in the spring. I can feel in my bones that this is the final season, and you know what? That will be just fine if that happens – because the show will go out like it came in: as a miraculous and unique little drama that is just too damned profound and perfect to make it on TV. Meanwhile, I cannot recall another film or show ever, that so perfectly celebrates coaches, teachers, parents, guidance counselors, older brothers. Molders of men. Quite lovely.
TERMINATOR: THE SARAH CONNOR CHRONICLES continues to be smart and sassy. There have been a couple of not-so-great eps this year but in general it is rolling along well. I love Shirley Manson, and her poor little kid, jeez, talk about UNLUCKY. This week as you may have heard a favorite character was killed; and just after the show there was a live chat with showrunner Josh Friedman, the writer of the ep Dan Thomsen, and the actor who was killed off. You can see a full transcript of the chat
here
(
spoiler alert, duh!
), or get a short outline over at
TV Guide
. This ep last night was directed by BATTLESTAR GALACTICA regular Michael Nankin, and featured filmmaking homage to both classic
John Woo
and Akira Kurosawa's
RASHOMON
. Well played, boys.
Meanwhile Joss Whedon pronounced his love for T:SCC over on
Whedonesque
, giving it his ultimate compliment by mentioning the show's "Battlestaresque panache"…and Fox
announced
that Whedon's new show DOLLHOUSE and T:SCC will be paired up together on Friday nights starting February 13th. (Yes, that's right: Friday the 13th.) Positive spin: 3 hours of nerdastic sci-fi goodness every Friday (T:SCC at 8pm, DOLLHOUSE at 9pm, and BATTLESTAR GALACTICA on Sci Fi Channel at 10pm). Negative spin: isn't Friday where Fox shows go to die?
Fox exec spin
: don't worry, Fox is going to give these shows a chance on Fridays.
Gulp.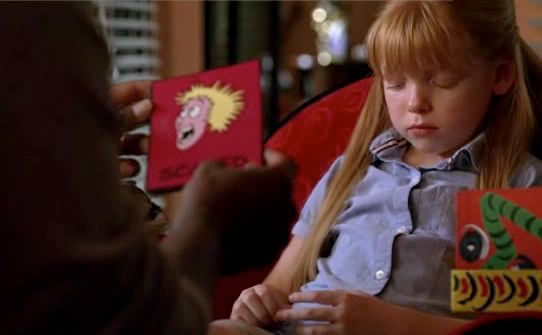 TRUE BLOOD continues to be freaky, scary, sexy, drenched with death, and awesome. This week I'd like to share something for the BATTLESTAR GALACTICA fans out there…as BSG actress Michelle Forbes made her first appearance this week as The Maenad, in a delightful and surprising way. Spoiler alert! You can grab a NSFW clip of her scene
here
(it's a quicktime file), and here are a few framegrabs: a
long shot
of the Maenad and a friend (blurry on purpose as in the clip)…and here's a
closeup
. But I recommend you just track down a copy of the entire episode (#110 "I Don't Wanna Know"), and when you get about 40 minutes in, keep your eyes out for the scene where a very drunk, crying black girl is driving down a lonesome country back road, and has...an ENCOUNTER. Great stuff. You can read a bit more about Forbes' character
here
(halfway down the post).
If you're considering catching up with TRUE BLOOD, now would be a good time to do so...this new episode made it very clear that Alan Ball has committed to cracking open Charlaine Harris' entire universe. In other words: it's not just going to be about vampires anymore. Also this week: DAMAGES'
Zeljko Ivanek
played a very powerful vampire who was once a member of The Spanish Inquisition! Love it. There are going to be many, many more fun casting opportunities for the show in the future, if they really take the plotlines out into all the areas covered by Harris' books. It may seem like straight-ahead gothic vampire romance now – but by the third book Harris has created a world more suggestive of tales from Greek Mythology or English faerie legends, once all the other creatures start popping up.
I'm up to the 8th episode of CALIFORNICATION season 2 now, and Callum Keith Rennie is still playing Lew Ashby (I'd been prepared to see him in just 2-3 eps; so this is quite a treat). Lew and Hank's dysfunctional bromance is becoming one for the history books now that Mia and Karen are involved. Good, hedonistic times.
On that note, let me leave you with the latest vidblog post from
Mia Cross
herself…glow worms indeed.