I am so, so glad it's back!
TV Tattle
has a stunning set of show links today: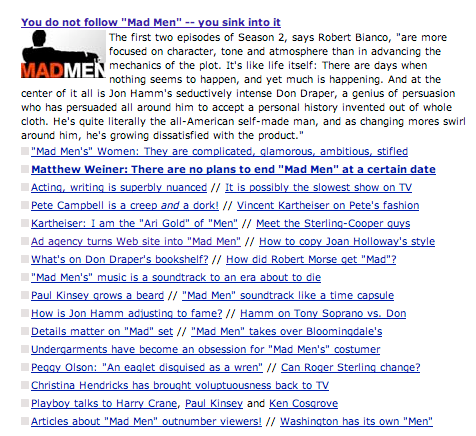 Hurry over there though; once it drops off their front page, it's gone...
From
USA Today
:
For TV's most enticing trip to the past, the future is now.

Returning Sunday for a second season, Mad Men is riding a wave of publicity and praise, from Emmy nominations to Television Critics Association awards. With luck, that wave will wash a few more viewers over to AMC, where they'll discover the chilling brilliance of Matthew Weiner's creation: a show that reflects the present in a smoky '60s mirror.

Welcome aboard the bandwagon, but take note: You don't so much follow Mad Men as sink into it. Returning once again to the polished, slicked-back constraints of a New York advertising agency on the cusp of a massive cultural shift, the first two episodes are more focused on character, tone and atmosphere than in advancing the mechanics of the plot. It's like life itself: There are days when nothing seems to happen, and yet much is happening.


...Catch Mad Men now, and you have the happy experience of jumping into a show at the height of its powers and confidence. Terrifically acted and gorgeously produced, this is a show that's both funny and frightening, that can simultaneously make you miss the '60s and feel blessed that they're gone. If it were an ad for scripted TV, it would persuade you to invest.

If this is the future of TV, the future's looking good.
I just loved what
this Philadelphia PA, ad agency did
- they "MAD MEN-ized" their company web site! Swell.
And thanks to the swanky fansite
Basket Of Kisses
: Matthew Weiner, Jon Hamm and John Slattery will be on CHARLIE ROSE next Monday night. Classic.
For any of you watching Sunday live on the East coast, don't forget that Weiner will be
taking questions just after the show ends
over at the AMC official blog. Apparently you need to be a registered forum member on the site to participate, so make sure to sign up in advance.